PERSONALISED PLASTIC TOKENS
Plastic Tokens can be personalised with your own design, logo or wording on one or both sides. We can offer a wide range of custom tokens in a variety of sizes and colours. Choose from Embossed tokens - your design in relief, One Colour Printed tokens, Foil Printed tokens in Gold or Silver, or Full Colour Printed tokens on White or Colours. Our circular tokens are available in a choice of diameters with a thickness of 2.40mm, and we can also supply a hexagon token, rectangular token and square token. The minimum order quantity is 1000 but contact us to find out about larger quantity discounts. Please allow 4 weeks for delivery from receipt of payment, approval of artwork and manufacture.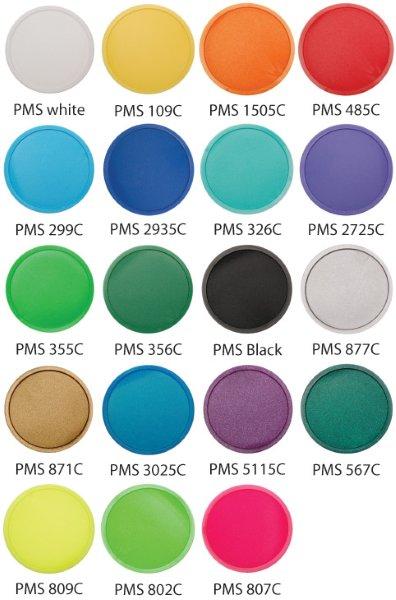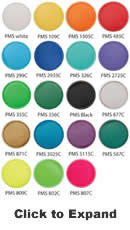 These are the most popular colours but click hereclick here to see our full Colout Chart click here for a greater range of choices.
Simply use our contact form to tell us the colour, style and size you'd like and we'll email you a quote. We will ask for your logo in a high resolution jpeg or .pdf email attachment so that an accurate die can be made.
TOKEN STYLE
DIAMETERS IN MM (ALL 2.40MM THICK)
EMBOSSED
FREE DESIGNS AVAILABLE SEE BELOW
23.30
25.00
29.00
35.00
ONE COLOUR PRINTED
23.30
25.00
29.00
35.00
SILVER OR GOLD FOIL PRINTING
23.30
25.00
29.00
35.00
FULL COLOUR PRINTING ON WHITE
FREE DESIGNS AVAILABLE - SEE BELOW
23.30
25.00
29.00
35.00
FULL COLOUR PRINTING ON COLOURS
23.30
25.00
29.00
35.00
HEXAGON - EMBOSSED AND FOIL PRINTED ONLY
34.60
RECTANGLE
34 x 60
SQUARE - EMBOSSED AND FOIL PRINTED ONLY
26 x 26
EMBOSSED FREE DESIGNS AVAILABLE SEE BELOW
DIAMETERS IN MM (ALL 2.40MM THICK)
23.30
25.00
29.00
35.00
ONE COLOUR PRINTED
DIAMETERS IN MM (ALL 2.40MM THICK)
23.30
25.00
29.00
35.00
SILVER OR GOLD FOIL PRINTING
DIAMETERS IN MM (ALL 2.40MM THICK)
23.30
25.00
29.00
35.00
FULL COLOUR PRINTING ON WHITE
FREE DESIGNS AVAILABLE - SEE BELOW
DIAMETERS IN MM (ALL 2.40MM THICK)
23.30
25.00
29.00
35.00
FULL COLOUR PRINTING ON COLOURS
DIAMETERS IN MM (ALL 2.40MM THICK)
23.30
25.00
29.00
35.00
HEXAGON - EMBOSSED AND FOIL PRINTED ONLY
DIAMETERS IN MM (ALL 2.40MM THICK)
34.60
RECTANGLE
DIAMETERS IN MM (ALL 2.40MM THICK)
34 x 60
SQUARE - EMBOSSED AND FOIL PRINTED ONLY
DIAMETERS IN MM (ALL 2.40MM THICK)
26 x 26